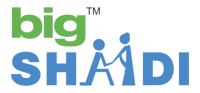 Do your gifts deliver emotions? Ever thought a phone can become an integral part in making your wedding memorable? Well, with Big Shaadi, it will!
Go for a techno wedding with Big Shaadi and add voice to the best ever wedding gift from parents. Fashion a unique wedding call centre. Bring magic to the wedding with some phone fun amongst the wedding guests. Big Shaadi effortlessly lets you create hype around the wedding and ensures proactive involvement of your guests. It keeps your wedding communication customized and under control. It also engages the guests in various personalized interactive telephony games and contests with an experience of a vibrant techno-wedding like never before.
Let Big Shaadi be your wedding Mascot!
Big Shaadi is indeed a big ticket to one-of-its-kind royal and unique wedding with an extraordinary conveying power of multiple information regarding the function and venue for invitees like sangeet in hotel, shaadi in resort and reception in haveli.